Jackson Hole, Wyoming is home to some of the most unique terrain in the United States. The town has limitless activities and adventures to take a part in. From snow skiing to sightseeing, Jackson Hole is an extremely popular vacation destination in both the summer and winter. With so many options to choose from, we've laid out the top 10 best things to do in Jackson Hole this year! Let's take a look.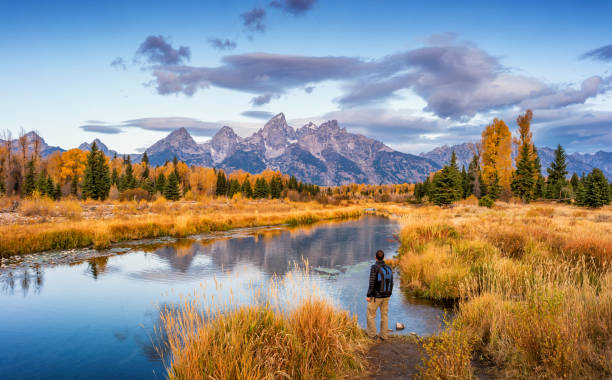 Winter Sleigh Ride
Ever wonder what it would be like to go on a sleigh ride through a snow-coated forest surrounded by wildlife? Well in Jackson Hole you can do just that! One of the most popular and unique winter activities has become guided sleigh rides. From December through April, visitors can experience the magic of winter. An experienced guide will take you through snowy terrain at the National Elk Refuge. On the ride, you will be immersed in the beautiful scenery and a quiet and peaceful environment. On the sleigh, you will come within 20 to 30 feet of real live elk. This is a totally unique experience from any other in the country. Reservations for sleigh rides are strongly recommended but not required. Be sure to bring your camera to capture the experience. And if you easily get cold, bring a blanket or two in addition to your winter outfit!
Hot Springs
Want to warm up on a snowy winter day? Jackson Hole has just the place for you! The surrounding areas of the Jackson Hole valley are home to thermal waters, but several unique spots have been carved out for humans to enjoy the natural hot water!
Granite Hot Springs is tucked away in the mountainside. This spot hosts a natural pool that is about 110 degrees Fahrenheit year-round. If you opt for this location, you might want to do a bit of extra planning beforehand. This hot spring is only accessible in the winter months via a snowmobile. There are plenty of guided options that will lead you to this location. If you are an experienced snowmobiler, you may opt to venture to Granite Hot Springs on your own! Either way, it is worth a visit!
Astoria Hot Springs is one of the most popular locations; located just 15 miles south of Jackson Hole. This spot was founded in the 1960s but was shut down in the 1990s due to money problems. Fortunately, doors reopened in 2020, and the complex now has 5 natural hot pools to choose from. Be sure to book a reservation at Astoria; each session can only hold up to 35 people!
If you choose to opt for an undeveloped hot spring, be sure to do all of your research beforehand. Some areas are illegal to swim in, and some can even be dangerous. Fortunately, everyone is allowed to swim in creeks and rivers that experience warm runoff from the springs. This is a good option if you want to be around fewer people!
Fat Tire Biking
Want to test your limits and try something new and exciting? Fat Tire biking may be the thing for you! The bikes are fastened with thick front and back tires, making them suitable for off-road terrain and snow. It is a great option if you want to do something active in the winter months.
With limited options, be sure to reserve your bikes ahead of time. Many of the workers at bike rental shops can provide trail recommendations or maps.
If you are an unskilled biker, don't fret? There are many options for guided biking sessions.
Teton Mountain Bike offers tours through the Grand Tetons and the National Elk Refuge. You won't want to miss out on the beautiful sights you will see in Jackson Hole!
Shopping in Jackson's Town Square
Feeling a bit less adventurous but still want that mountain town feel? Jackson Hole has something for you! The town is home to a plethora of shopping outlets and family-owned stores. The town is home to jewelers, art galleries, and outdoor supply stores! If you have small children, there are many attractions tailored to kids; a number of ice cream parlors and candy stores can be found on the Jackson Toen Square strip.
If you want to tell the world you're in Jackson Hole, one Instagram-worthy location is the Antler Arches of Jackson! The town is known for its beautiful and unique arch made entirely out of antlers. Many visitors opt to take photos with the arch to signify their trip to the state!
The Town Square is a good place to break up your days of outdoor adventure and revel in the beauty of the town!
Enjoying this video? Be sure to give it a like and subscribe to our channel for similar content!
Watch this video to find out the number 1 activity in Jackson Hole!
Day Trip to Yellowstone National Park
There is so much to see in Wyoming. If you want to escape the town for a bit, why not hop in the car and take a day trip to one of the numerous national parks nearby.
The Grand Teton national park is the closest spot to Jackson Hole. The park is known for its incredible beauty and unforgettable mountain peaks. Though many of the roads are closed during the wintertime, the views surrounding the park are unlimited in beauty. There are many ski tours and snowshoe excursions to be had within the park too! The Grand Tetons are a great option for a quick getaway when staying in Jackson Hole!
The second-best option on the list is Yellowstone National Park. The park is a bit further of a drive than the Tetons but just as beautiful, if not more! In the winter, Yellowstone is a frozen tundra of beauty. The Old Faithful geyser is a sight to see in the winter with eruptions happening about every hour or so. The colorful thermal areas throughout the park can keep one entertained for hours. If you want an experience like no other, make the drive out to Yellowstone!
Get a taste of the Town
Looking for a good spot to eat? Jackson Hole is home to some of the best restaurants in the Country! You won't be disappointed with the town's options; they have something for everyone!
Whether you are looking for fine dining or a casual night with the kids, you are sure to find a restaurant with good food and a view to match.
Pinky G's Pizzeria is notably the best pizza in town; the restaurant was even featured on the famous food network show: Diner, Drive-Ins, and Dives with host Guy Fieri. This is a great option for a low-key night or even if you want delivery to your doorstep!
Looking for a more upscale restaurant with 360 mountain views? Hayden's Post Kitchen and Bar at the Snow King Resort has a wide variety of menu options! The food is top-notch, and the surrounding views cannot be matched. The Bar also hosts a daily happy hour from 3-6 pm!
Wildlife Tours
Jackson Hole and surrounding areas are known for their incredible scenery and lush wildlife. The land is home to almost every single original species to ever exist in the area. The ecosystem thrives and makes it one of the best spots in the world to experience true nature. All types of bears, unfortunately, hibernate in the winter, but tourists are very likely to see groups of massive elk or even a pack of wolves on the hunt for their next meal. There is no shortage to the types of animals one may see in Jackson Hole.
It is recommended to hire a tour guide to help you spot the animals. Someone experienced in animal sighting will help you make the most of the experience. Professionals know when and where to look for species. Many guides are known to go out of their way to show you a unique spot where you may see something special!
It is highly recommended that you make reservations when planning a trip like this. Capacity varies depending on the activities you may be interested in. If touring in the winter months, be sure to bundle up! The tours are known for their cold breezes that come through!
National Museum of Wildlife Art
Interested in the local art of Jackson Hole? Why not visit the National Museum of Wildlife Art. Through a tour of the museum, you will learn about the rich history of the land and the wildlife native to the area. You will leave feeling nothing short of inspired by the beauty of nature and wildlife. The museum features new exhibits year-round and offers many opportunities for learning! It is recommended that you reserve tickets and reservations before showing up at the museum. The museum is a huge attraction in the area enjoyed by people of all ages.
Dog Sledding
Ever wish you could experience the famous dog race of Iditarod? Well, it turns out that you don't have to travel all the way to Alaska to experience the magic. Dog Sledding has become a huge tourist attraction in Jackson Hole! You can learn how to ride with the dogs, or simply lean back and relax on a fast-paced sled through the snow! The dog-led tours have many different destinations, often leading to the coveted hot springs mentioned earlier!
It comes as no surprise that this is one of the most popular activities for tourists in the area. Unfortunately, the experience is extremely limited. Plan your dog-sledding trip far in advance to ensure you have a spot on the list. The once-in-a-lifetime journey is sure to be cold, so make sure you bring extra coats and even blankets!
Alpine Skiing & Snowboarding
Last but certainly not least, the most popular activity to do in Jackson Hole is Skiing and Snowboarding. The town is home to 3 state of the art snow resorts, all within an hour of each other. Visitors from all over the world flood Jackson Hole each year to experience the limitless fresh powder native to the land.
Planning ahead of time for skiing & snowboarding trips is extremely encouraged due to the high demand. Pre-purchase your tickets online and be sure to have all of the appropriate gear required to take part in the sport. Booking ski-lift tickets ahead of time is encouraged as well.
Similar to any other winter activity, be sure to dress warmly!
The opportunities for fun in Jackson Hole are endless! From skiing to fat tire biking, there is something to be found for everyone! The snow town hosts millions of tourists each year, therefore it is recommended to plan your trips and excursions in advance! What do you think you'd spend your time doing in Jackson Hole? Skiing down slopes or relaxing in the warmth of a natural hot spring?  Let us know what you think in the comments! If you enjoyed this video be sure to give it a like and subscribe to our channel below for more videos like this one!